Ethiopian Human Rights Defenders Center celebrated the 1st year anniversary of its establishment titled HRDs for Peace: The Rights to Peace as a Human Right. on January 31, 2022, at Inter Luxury Hotel with distinguished guests such as Daniel Bekele Chief Commissioner of Ethiopian Human Rights Commission(EHRC), His Excellency, Mr. Hassan Shire (Executive Director of DefendDefenders), Ato Fasikaw Mola (Deputy Director-General of the Ethiopian Civil Society Organizations Agency), EHRDC members and members of United Nations Office of the High commissioner for Human Rights (OHCHR). In addition, more than 40 members of CSOs, Human Rights Defenders, and members of media took part in the event.
The event began with an introduction by EHRDC's Executive Director Yared H/Mariam, Welcoming remarks by our Board Chairman Ato Mesud Gebeyehu which was followed by opening remarks by Chief Commissioner Dr. Daniel Bekele and His Excellency Mr. Hassan Shire.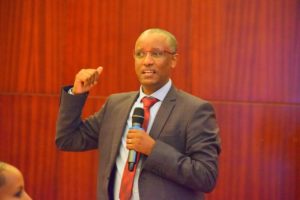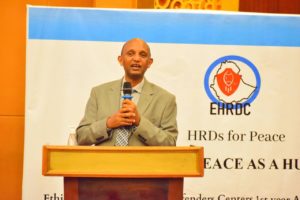 After than The Award for Human Rights Defenders of the Year,  was given, handed by Chief Commissioner Daniel Bekele and 9 laptop donations were handed out to women human rights defenders with disability by Lensa Biyana, our vice Board of Directors and Executive Director of Ethiopian Women Lawyers Association (EWLA).
About the HRD of the Year Award
After an open call for nomination and several applications nominating several human rights defenders from different regions in Ethiopia, 3 winners were selected by a committee of judges. The committee of judges was comprised of 4 senior members of human rights organizations and one representative of EHRDC.
The Winners are:
1. Belaynesh Sisay from Gondar
2. Atikilt Janka from Sidama
3. Lale Labuko from South Omo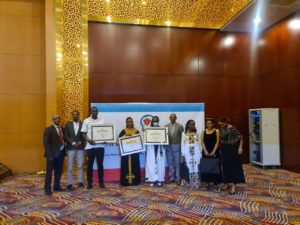 About the laptop donations
After conducting training on basic computing and digital security for women HRDs and Women HRDs with disabilities that was held from 25th up to 28th of October, the team learned that many of the HRDs did not have laptops or any computers. After discussing this issue as a team and with the help of our partners DefendDefenders, we were able to donate 9 laptops to some of the women that participated in the training and others based on a call we released to searched for deserving HRDs who were eligible for the donations.